ELASTOMERIC BEARING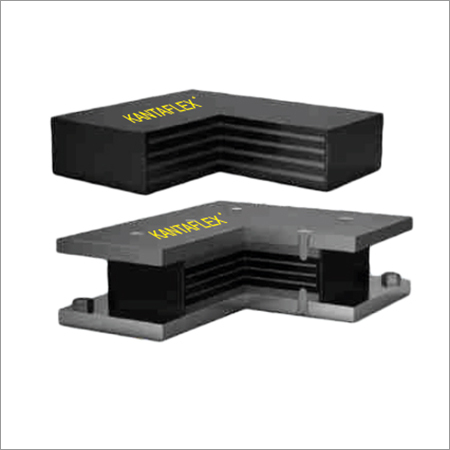 ELASTOMERIC BEARING
ELASTOMERIC BEARING
Kantaflex Elastomeric Bridge bearings are designed and manufactured as per IRC 83par II 2015, With its latest amendment to meet the requirements of MORT&H specification for road and bridge works to section no 2000 to clause no: 2005 (Elastomeric bearing) and to international specifications Union of Railways Code no UIC 772-2 R (Use of Rubber Bearing for Railways Bridges) and BS EN1337-3:2005 Structural Bearing-Part 3: Elastromeric Bearing.

Kantaflex Elastomeric bridge bearing consists of one or more internal layers of elastomer bonded to internal steel laminates shall be cast as single unit mould and vulcanized under heat and pressure to cater for translation or rotation of the superstructure by elastic deformation.
The raw elastomer used in bearings is poly-chloroprene of make : Neoprene W&WRT, Bayprene 110 & 210, Skyprene B5 & B30, Denka S 40 & M40 of low crystallization rate and adequate shelf life.
The content of the poly chloroprene of the bearings shall not be lower than 60% and the ash content shall be less than 5%. The steel laminates used in bearings shall meet the specification of IS:2062/IS:1079
Design of the Elastomeric Bearing
The overall length divided by overall width shall be less than or equivalent to two
If thickness of steel laminate is 3 mm then thickness of elastomer layer shall be either 8 or 10 mm
If thickness of steel laminate is 4 mm then thickness of elastomer layer shall be 12 mm
Minimum thickness of top and bottom cover layer shall be 2.5mm and minimum thickness of side cover shall be 4mm
Bearing Installation
The installation of Elastomeric Bearing will vary with the type of construction whether the structure above the bearing is in-situ construction or precast concrete beams or structural steel beams. In general the bearing is placed on the surface provided at the right level. The lower and upper concrete surface between which the bearing is placed must be horizontal, parallel, clean & flat.
For in-situ construction the form work must be constructed so as to prevent concrete flowing from damaging the sides of the bearings. This is easily achieved by surrounding the bearing with expanded polystyrene &taping adequately between the top surface of bearing & polystyrene. Polystyrene should be removed after the structure has been cast.
Kantaflex Elastomeric Bearings are:
MORTH and RDSO Approved
In House Test Facilities
Economical Price
Trusted Bearing
Inspection by External Agency
Delivery in Short Duration
Different types of reinforced elastomeric bearings:
Type - 1 - Plain pad strip bearings
Type - 2 - Laminated bearings
Type - 3 - Bearings with PTFE Laminates
Type - 4 - Bearing with Sliding interface
Type - 5 - Bearing with vulcanized steel plate
Technical Specification
Property

Unit

Value Specified

Test Method

Physical Properties

Hardness

IRHD

50 ± 5

60±5

70±5

IS : 3400 (Part II)

Minimum Tensile Strength




Moulded test piece

MPa

17

17

17

IS : 3400 (Part I)

Test piece from bearing

14

14

14

Minimum Elonga on at break




Moulded test piece

%

450

400

300

IS : 3400 (Part I)

Test piece from bearing

400

350

250

Maximum Compression set (24h,100° C)

%

35

IS : 3400 (Part X)

Accelerated Ageing 72h, 100±1° C

Maximum Change in Hardness

IRHD

+5

IS : 3400 (Part IV)

Maximum Change in Tensile Strength

%

-15

Maximum Change in Elongation

%

-30

Minimum Adhesion Strength

KN/ m

7

IS : 3400 (Part XIV)

Maximum Ash Content

%

5.0

IS : 3400 (Part XXII)

Ozone Resistance




No cracking

IS : 3400 (Part XX)
| | | |
| --- | --- | --- |
| Hardness (IRHD) | G (Mpa) | Tolerances of G ( Mpa) |
| 50 ± 5 | 0.7 | ± 0.15 |
| 60 ± 5 | 0.9 | ± 0.18 |
| 70 ± 5 | 1.15 | ± 0.20 |